Culture d'entreprise : RH, pensez aussi à l'immobilier !
Published by Guests, on 25/10/2015
Par Thomas Larréde (Parlons RH)
Lorsque l'on évoque la culture d'entreprise, instinctivement, nous pensons marque employeur, stratégie de communication (interne ou externe), etc. Et pourtant, nous oublions régulièrement un petit détail non négligeable : l'immobilier d'entreprise ! JLL, leader mondial spécialisé dans le conseil en immobilier d'entreprise nous démontre à travers son étude, et l'infographie qui en découle, à quel point l'immobilier peut mettre en scène votre culture d'entreprise.
La culture d'entreprise se définit comme un ensemble d'éléments partagés (valeurs, croyances, pratiques, etc.) qui permettent, en interne, de formaliser des comportements, de structurer des pratiques managériales ou encore de faciliter la prise de décisions. On dit souvent que ces éléments servent de guide et de repères pour les collaborateurs. À l'externe, la culture d'entreprise est également  un puissant outil de recrutement (marque employeur) et de communication qu'il ne faut pas négliger.
Allier culture d'entreprise et immobilier pour fédérer et se démarquer de la concurrence
Dans un contexte hautement concurrentiel, le succès des entreprises dépend de plus en plus en sa capacité à mobiliser leurs collaborateurs autour d'un projet collectif. Face à cet impératif, l'entreprise ne peut plus être réduite uniquement à des dimensions économiques et techniques : elle doit désormais s'appréhender comme un système social où se créée un tissu de relations interindividuelles
L'étude de JLL avance 3 chiffres clés qui démontrent l'importance de l'environnement de travail au sein d'une organisation :
61% des entreprises comptent sur leurs locaux pour améliorer la performance des collaborateurs
46% des entreprises estiment que les locaux jouent un rôle de plus en plus important pour attirer et retenir les talents
29% des entreprises estiment que la résistance au changement des collaborateurs et du management freine leur projet d'aménagemen
Traduire sa culture organisationnelle en langage immobilier
En tant qu'outil de management et de communication, l'immobilier est un outil de mise en scène qui permet de :
Voir et vivre la culture d'entreprise
Ancrer la culture d'entreprise auprès de ses différents publics
Supporter les processus internes transversaux
Quelques exemples concrets :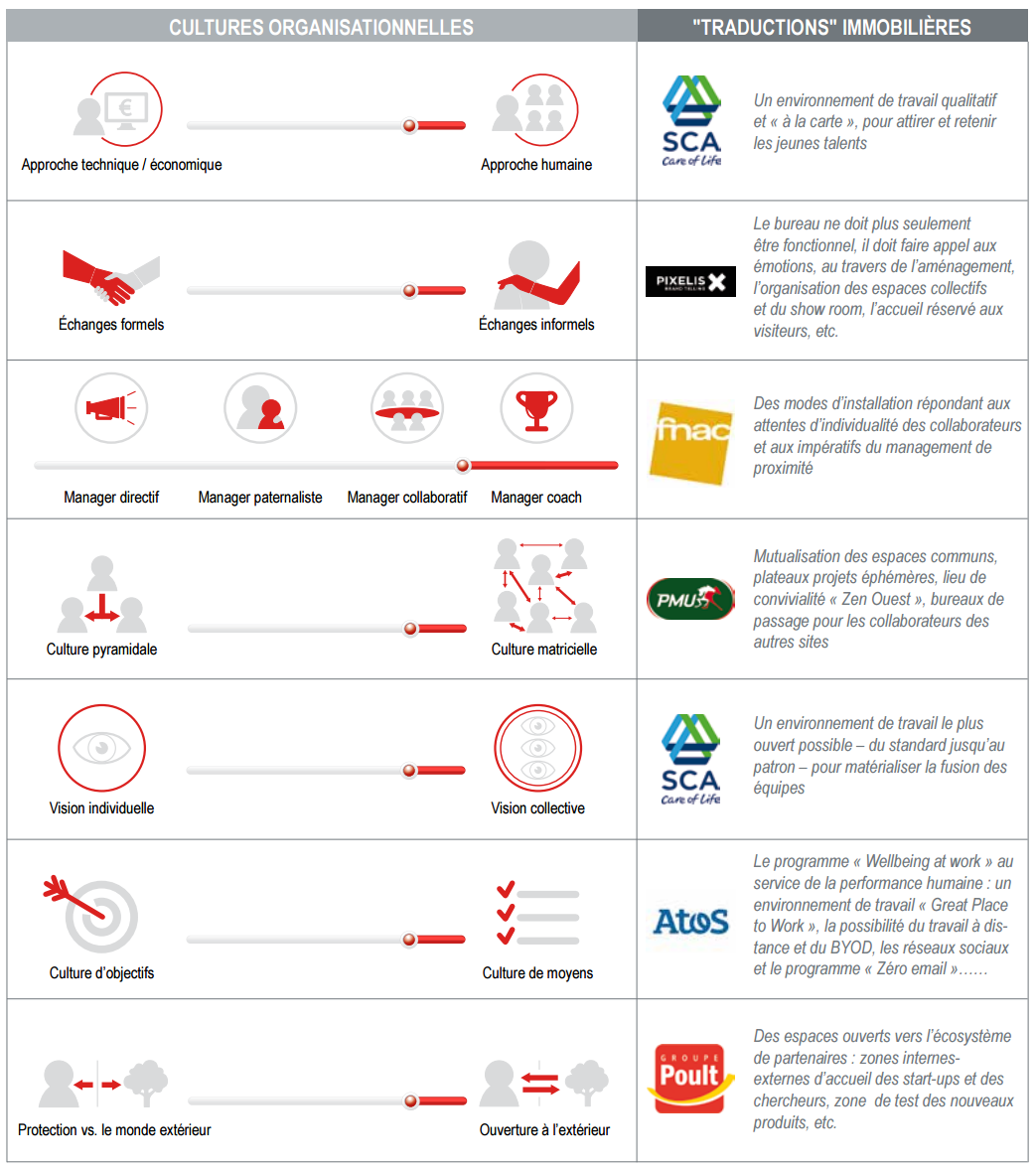 N'hésitez pas à partager les plus beaux clichés des espaces de vie de votre entreprise sur Twitter avec le hashtag #ParlonsBureaux !

L'étude complète est disponible sur le site français de JLL.
Crédit photo : © marog-pixcells – Fotolia.com
Post a reactions

Your email address will not be published. Required fields are marked*
* Comments are welcome in English, French or Dutch. Only reactions by authors who have stated their full name and e-mail address will be published. No mention of e-mail addresses will be made on the website. We only require them to enable us to contact the writer of the reaction should this prove necessary. blogs.HRMinfo.eu reserves the right to delete reactions that are not in conformity with the general conditions and code of behaviour of this website.